Annual Awards 2014
2014 Frank Smith Memorial Sportsperson of the Year
Tim Berryman - Motor Sport

Tim Berryman brings a new sport to our awards night for 2014 as he won a national motor racing title. He was successful in the Radical Australia Cup Championships. This is a division for Le Mans prototype open top sports cars. Tim drove for Raw Racing in a Radical SR8 V8 sports car. The specifications are 430BHP, 600kgm, 6 speed paddle shift with high down force wings and slicks.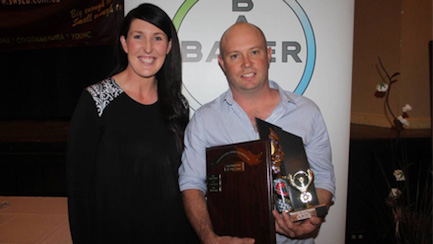 The championship series was held over seven rounds with races at Sydney Motor Sport Park, the Phillip Island Grand Prix, Mount Panorama Bathurst and Sandown International Raceway. During the series Tim achieved: -
4 round wins.
7 race wins.
6 podium positions.
6 pole positions.
This resulted in Tim winning: -
1st place in the SR8 class.
1st place outright in the Radical Australian Cup Championships.
Tim's prize for winning is a drive with the Radical U.K. Factory Team in the Euromasters Championship for a round at Spa, Belgium in 2015. Tim is also looking at more sports car racing in the Asian Le Mans Championship in 2015.
​
2014 Junior Sportsperson of the Year
Samantha Maxwell - Women's Rugby Union
Samantha continues to play Rugby Union in both the 7's and 15's. In the 15's Samantha played for the Wagga City Women's team. The team reached the Grand Final and went on to win the Southern Inland Rugby Premiership.
Samantha won the team's award for the best and fairest during the 2014 season. From her club achievements, she was selected as captain of the Brumbies Youth Team as well as being in the train-on squad for the Brumbies Women's team.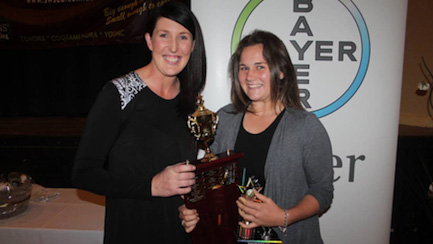 As successful as Samantha's season was in the 15's, she achieved even more when playing the 7's version of Rugby. Samantha was initially selected in the Australian Indigenous Youth 7's team. This team went on to tournaments against Hong Kong and NSW schools.
Perhaps the highlight of 2014 was being selected in the Open Australian Indigenous Women's 7's team. This squad is known as the Lloyd McDermott Women's Graduates. As a member of this team, Samantha played in tournaments at the Central Coast and Noosa. Amongst her opponents were Brazil, USA and Japanese Olympic Squads. They also played against the Open Australian B side known as the Aussie Pearls.
2014 Team of the Year
Cootamundra Blues 1st XVIII - Australian Rules Football
The team of the year was relatively easy to select with the Cootamundra Australian Football Club having their most successful season in over two decades.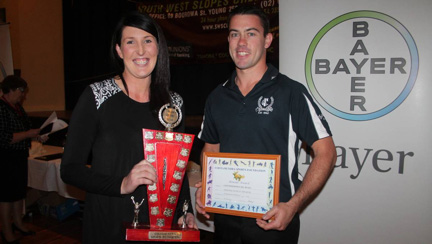 This year the 'Coota Blues' took out the AFL Canberra Division 3 Premiership. The Blues in 2014 were playing in their 11th season of AFL Canberra and lost just one game in a decisive season of Australian football.
Led by new playing coach, Luke Webb, who was a Farrer League Premiership player with The Rock - Yerong Creek, the talented footballer instilled discipline and fitness in the Blues which held them in good stead throughout the season.
The team finished the home and away season as minor premiers with a 16-1 win/loss ratio and a percentage of 316. They defeated Goulburn in a hard fought major semi-final by 23 points.
The Blues lined up against arch rivals Yass in the decider, expecting a very tough encounter. In probably their best start during the season, the Blues booted 9-1 to 6-1 in the first quarter and when they led 13-2 to 3-1 ten minutes into the second quarter the game was virtually over. The Yass Roos steadied after this but the Blues won by 40 points 18-5-113 to 11-7-73.
​
2014 Junior Team of the Year
Cootamundra Bullpup's Under 14's - Rugby League
2014 was a year in which many of our junior teams in different sports had a great season and won their respective competitions. After much deliberation the vote went to the Cootamundra Bulldogs U14 Rugby League Team.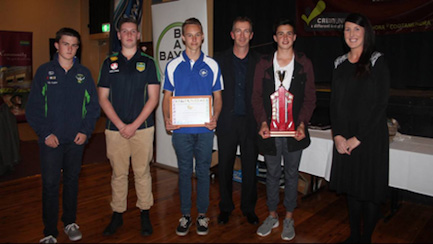 This team played well throughout the year and reached the Grand Final after an earlier hard fought 20-12 win over the Temora Dragons. In a bruising Grand Final against the Temora Dragons again, as Temora had progressed after winning their final.
The match started badly with Cootamundra losing their main play maker and five eighth, Matt Knagge to an illegal play in the third minute. Cootamundra led 4-0 at half time and increased it to 8-0 midway through the second half. A further try to each team saw the Bulldogs worthy 14-4 winners. This side cemented their claim as the town's best junior sporting side with this third successive premiership win.
​
2014 Administrator of the Year
Todd Basham - Australian Football, Junior Cricket and Touch Football
Todd Basham has been a tireless worker for sport in Cootamundra, showing that there are people in the town and district who are willing to put back into the sports they enjoyed as a player. His dedicated service to three sporting clubs over a long period of time exemplifies his commitment to sport. Todd has been involved with the Cootamundra Blues AFL Club for well over 20 years. As a player Todd played 278 games, coached the Reserve Grade and was a great Clubman – Mr Reliable is a good tag.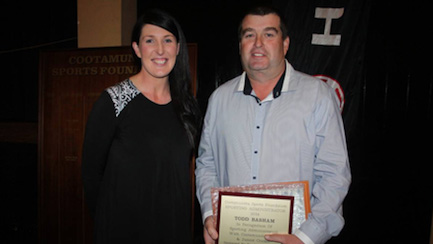 As an administrator he instigated many new fund raising initiatives for the Club which ensured the Coota Blues become financially viable over a long period of time, something that is not easy to achieve in today's world. He also took up umpiring becoming a central umpire and officiating in both home and away matches.
Todd was made a Life Member of the Club in 2003 and was installed as President in 2013 and with his enthusiasm the Club saw success on the field in 2014 by winning a premiership – a just reward for Todd's hard work. He has also been involved with Touch Football – one of Cootamundra's most popular summer sports. He has been President, committeeman and referee for a number of years with his expertise appreciated by all touch footballers.
After playing cricket for many years Todd became involved with the game at a junior level. For 9 seasons he was a representative coach and became President overseeing an increase in the number of juniors playing cricket with innovative ideas that saw gala days, day/night cricket and financial security. Todd was recently named as a Life Member of the Cootamundra Junior Cricket Association.
Todd has made an enormous and significant contribution to sport in Cootamundra and is a worthy recipient of this prestigious award.
2014 Max Rudd Memorial Trophy for Service to Sport
Bob Holder - Rodeo
It is not very often you can say that a person has been involved in a sport for 70 years. Bob Holder has reached that wonderful milestone in the tough sport of rodeo. Bob's first rodeo was at Cooma when he was 10, but still vividly remembers his first win at 14 years of age in 1945 in the novice bronc event at the Tumut Rodeo. Bob attended many rodeo events in his younger days as he worked and helped to support his family in tough times.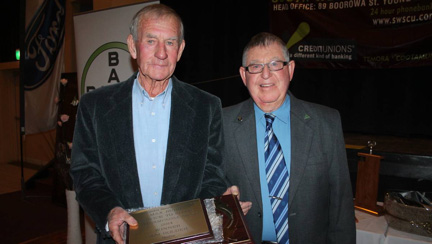 In 1959 Bob travelled by boat to America and became, along with 3 others, the first Australian Cowboys to compete on the USA rodeo circuit. With Bob's positive mindset and knowledge of horses he was the first Australian to win prizemoney on the USA Professional Rodeo Cowboy's Association in a bronc ride. They saw the Vice-President of the USA attend one of the rodeos landing in the middle of the arena in his Presidential helicopter! Bob rode in 3-4 rodeos a week and the Australian saddle, described as a "pancake" by the Americans, created a new competition at some of the events. This experience inspired Bob to return home and seek out opportunities in Cootamundra to expand rodeo as a sport.
As a result the rodeo became part of the annual Cootamundra Show before the Cootamundra Rodeo Ground was developed, after approaches were made to several other cowboys, the local Council and NSW Lands Department. Voluntary labour saw the rodeo grounds with its unique amphitheatre structure developed on Rodeo Drive. The first rodeo event held at the new site was a huge success with a gate of $11,000 (at $1/adult) with people packing the area, creating a traffic and parking nightmare.
Ken Last was President and with Bob they gained many sponsorship deals with both local business houses and multi-national companies involved. The Australian national finals were held in Cootamundra on a number of occasions and there were street parades and town participation at such events. Money raised by the Rodeo Association was given to local charities, the hospital and used to build units – a wonderful contribution to the community. Bob's passion for Rodeo was the driving force behind making rodeo an important part of Cootamundra's history.
At 83 years young, Bob still continues to compete. His career wins are too numerous to mention, but the main factor behind Bob's great career in the saddle is his desire to participate and have a go. He has given away the bronc riding but now competes in team roping. Every June, July and August Bob heads north to Queensland to compete at places like Mt Isa and Cloncurry. My Isa is Bob's favourite arena – the best in the world according to Bob. He has competed in events on this circuit for 70 years – a great achievement! He is the oldest competitor in the Australian Professional Rodeo Association and still picks up a cheque from time to time.
Bob keeps fit by swimming and riding his horse Storm on a regular basis. He hopes to continue competing in events. His daughter Kerrie is a very successful rodeo competitor in her own right and son Clayton, with grandsons Brock and Blake, love riding horses with Bob. Bob's positive attitude to life has allowed him to be successful in many facets of his life. Bob has contributed greatly to Cootamundra in his lifetime, by way of his association with rodeo, his farming and his work in real estate with Elders.
Bob Holder – has made a wonderful achievement and contribution to the sport of rodeo and to the Cootamundra community.
​
2014 Local Sportsperson Award
Michael Simons - Soccer
Michael began his football career in 1982 at the age of five with the Cootamundra Junior Soccer Club. He played many positions until he found his niche keeping his team's goals safe. He received many Best & Fairest and Most Consistent awards and finished his junior career by collecting the Benson Trophy for Best Goal Keeper.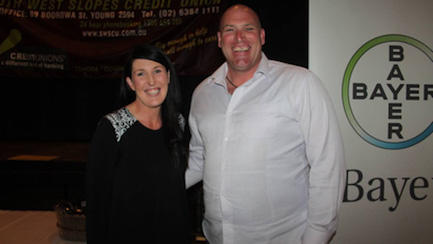 Michael's quick reflexes and his willingness to put his body on the line contributed to his continued success in goal. This continued in the Young and Wagga youth competitions and in the Strikers first grade, he also represented his school at State Level in 1994. He played State & National Titles in the ACT in Futsal & Indoor Soccer. He was widely thought of as the best goal keeper in the Wagga Football League. Michael was a very important link in the minor premiership team that made Strikers' history in 2002 by winning the first grade final against a very competitive Wagga United. He was also a member of the first grade minor premiership team in 2003, minor premiers & premiers in 2004 and grand finalist in 2005. He also played in grand finals in 2007 & 2008.
Michael received the first grade Coach's Award in 2001, Best & Fairest in 2001/2003 and Most Consistent in 2006/2008. Michael received the President's Award in 2003 and was the inaugural co-recipient of the Cootamundra Sports Leadership Foundation Award in 2001 for commitment & dedication to football in Cootamundra. In 2003, Michael was included in the Team of the Decade as goal keeper.
Michael played continually with the Strikers for 16 years and in 2008 was honoured with a Goal Keeper's Award in his name. He retired in 2009 with 286 games played. Michael's interest continued with his involvement again with junior soccer as a coach & parent. In 2012, Michael played another 13 games bringing his total games to 299. Michael was the first player to reach 300 games and this was achieved on the Striker's new oval, O'Connor Park.
Michael has provided much support to other team players over many years and allowed the Cootamundra team spirit to shine bright. His behaviour has been exemplary and his attitude towards training and competition games has always set a high standard and this was evident when he coached the Strikers youth grade to a grand final in 2008.
​
2014 Junior Encouragement Award
Abbey Bailey - Hockey, Cricket, Soccer and Athletics
Abbey Bailey had an outstanding year of sport in 2014 which saw her represent Riverina PSSA in three different sports. Early in the year Abbey was selected in the Riverina PSSA Cricket team which contested the state titles held at Barooga in late February, this was the second year Abbey had been selected in the cricket side.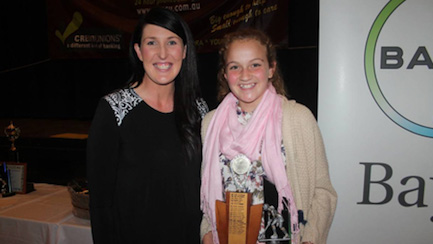 Abbey then moved onto winter sports and after the trials she successfully gained selection in both the Riverina PSSA girl's hockey team and soccer team. In June, Abbey contested the state hockey carnival held at Campbelltown and the very next week contested the state soccer carnival.
Abbey's all round ability does not end with these three sports as throughout the year she also represented the Cootamundra District PSSA in girls touch football and netball. At the Cootamundra district PSSA athletic carnival, Abbey finished as the senior champion girl athlete.
Abbey could be described as someone who is committed and dedicated in her training and has a good attitude and excellent skills. Abbey's results in 2014 showed her to be amongst Cootamundra's best all round sporting juniors.