Annual Awards 2018
2018 Frank Smith Memorial Sportsperson of the Year
Zac Rumble Rugby League
Zac Rumble began his Rugby League journey with the West Belconnen Warriors in Canberra and then the Cootamundra Bulldogs - where he has played since starting High School.

The skilful fullback has progressed through the NSW Country Rugby League pathway programme and began representing Group 9 in the Under-14's Country Championships in 2015 and has since been selected to play in the Under-15's and then the Under-16's prior to 2018.

Competing at this level of rugby league over many seasons is exceptional and Zac progressed through to win selection as the fullback for the NSW Country under 18's team that played two games against Papua New Guinea Rugby League and the Gold Coast Titans.
This came after outstanding performances for Group 9 and Riverina team in the Laurie Daley Cup in 2018.

Zac was a stand-out player in these games and his decisive attacking play, positional play and strong defence earned him praise from those who know the game.

As a result of these performances, Zac was signed by the NRL team the Canterbury Bankstown Bulldogs in a three-year deal.
2018 Junior Sportsperson
Montanna Wilkinson Rodeo
Montanna competes in several events in rodeo as a junior, with events being Junior Breakaway Roping, Juvenile Barrel Race, Open Team Roping and the Ladies Barrel Race.

Her success in 2018 started with competitions in southern NSW, having success at many events and being awarded the ABCRA Southern Zone Rookie Team Roping Header.

Montanna qualified for her first Australian Bushman's Campdraft and Rodeo Association (A.B.C.R.A.) final and competed in both the Juvenile Barrels and the Junior Breakaway Roping over three days in Tamworth.

At Tamworth, after many outstanding performances, Montanna was awarded the runner-up All Round Cowgirl for the Australian Junior National Finals.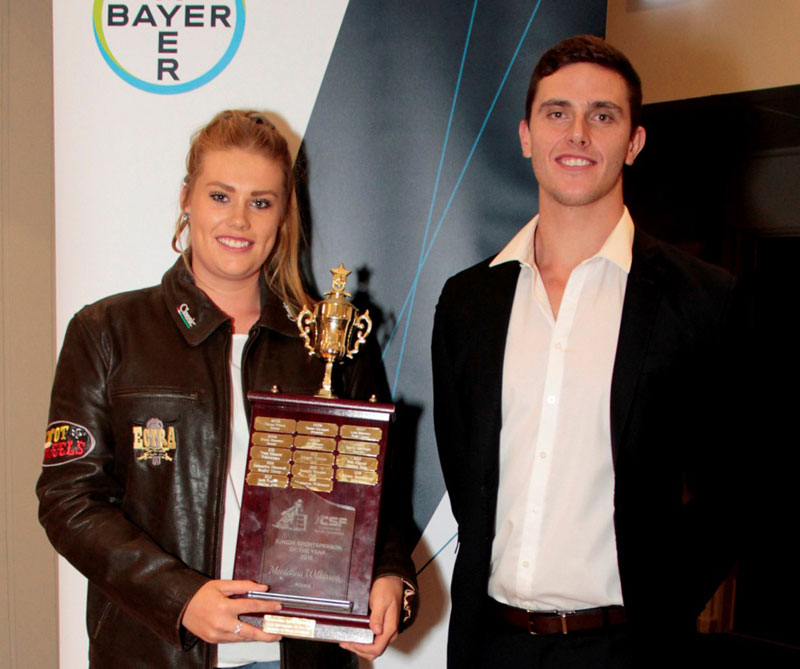 Encouragement Award



Luke Dowell

Karate




Luke Dowell started his martial arts journey in 2013 at the KRMAS club in Cootamundra, managed by Andrew Finch.

Throughout his journey in this sport Luke has built up self-confidence, developed his skills and his real thirst for knowledge has seen him develop into an outstanding young sportsman.

Luke showed how far he had developed in the sport when he achieved his first degree black belt in September 2018, after six years of training and dedication to the sport.

Luke has stepped into an assistant instructor's role at the martial arts dojo, helping teach The Little Ninjas karate and the Junior Muay Thai and is a real asset to the KRMAS Cootamundra Dojo.
2018 Team of the Year
Stribley Shield Cricket
Cootamundra started the season by defeating Goulburn in Goulburn by just six runs and then in round two, Cootamundra was easily beaten by Wagga by seven wickets.

In the only senior representative match played at Cootamundra's Albert Park during the season, Cootamundra defeated Yass by 32 runs.
This win enabled Cootamundra to advance to the final and play Wagga in Wagga.

In this match, played at McPherson Oval in North Wagga, the home side was routed for just 91 runs. While Cootamundra had a couple of hiccups along the way, they scored the runs in the 16th over to finish with 6/92 and bring home the trophy.

This was Cootamundra's first win since 2013-14 and their 18th title overall after being the inaugural premiers of the Stribley Shield in 1951-52.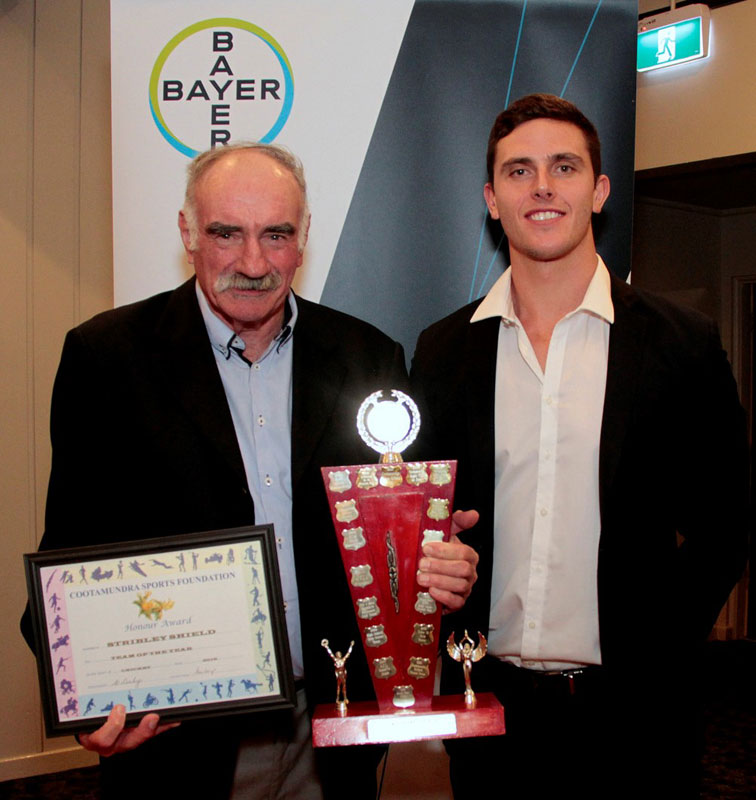 2018 Junior Team of the Year
Coota Bears under 12's Rugby Union
The Coota Bears under 12's rugby union team won the Southern Inland Rugby Union Junior 2018 competition continuing a remarkable winning streak for this group of young players and their coaching staff.

This made it the fifth year in a row that this group of players have been minor premiers and have then gone on to win the Southern Inland Rugby Union competition for their age group.

There is a core nucleus of players that has remained part of the team over the five years and their coach during this period has been Anthony Shepherd.

This group of players are multi-talented and excel in a variety of sports for their schools and other sporting clubs.

This Coota Bears playing group has created a record that will be hard to beat in junior sport – five premierships in a row.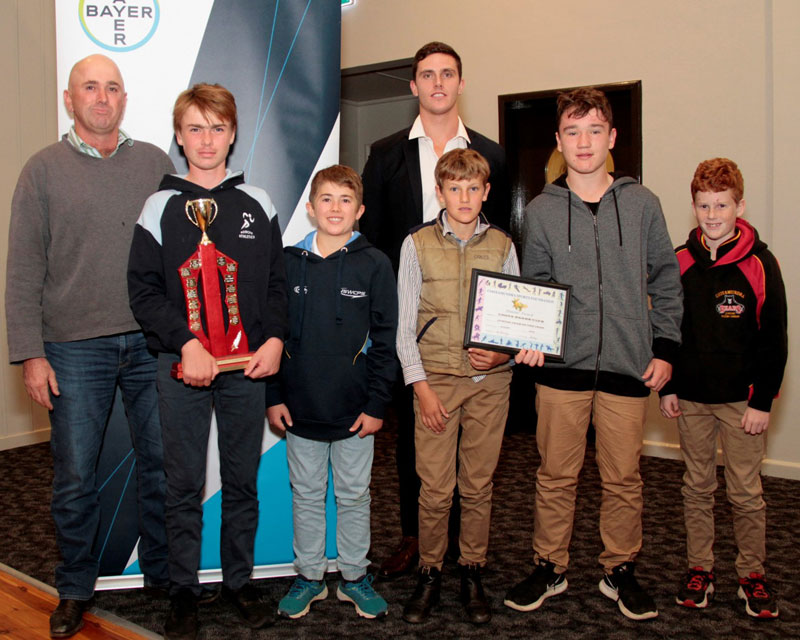 2018 Local Sportsperson
Kristen Byrne

League Tag
Kristen's highlight of 2018 was a major personal achievement in the sport.

She capped off a season to remember by winning the prestigious Group 9 best and fairest award – the Weissel Medal.

Receiving this honour at a gala end-of-season ceremony in Wagga, Kristen became the first Cootamundra Bullettes League tag player to win this award.

As Cootamundra's captain coach, Kristen led the way in all games throughout the season and set the standard for the rest of the team.
Kristen has been a great ambassador for the sport and has contributed to developing the sport at the local level at both senior and junior levels.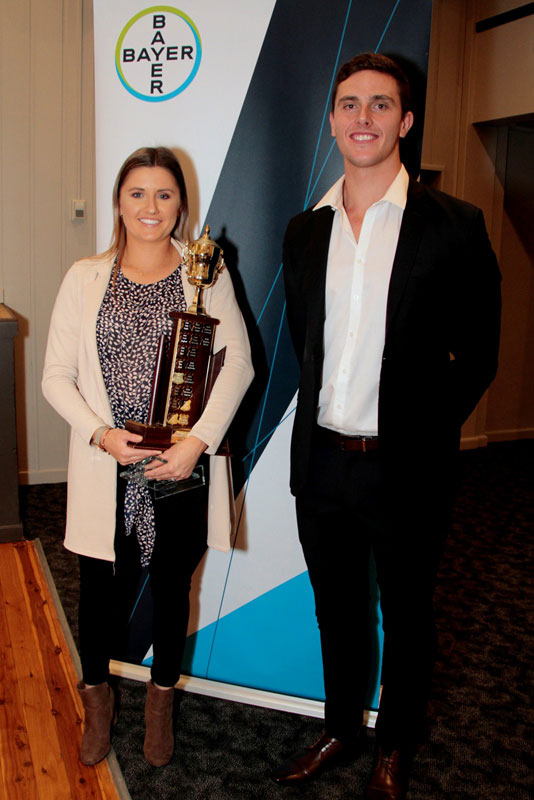 Max Rudd Trophy – Service to Sport
Peter Kelleher & family Junior Rugby League
Peter Kelleher has been the ever reliable committee member of the Cootamundra Junior Rugby League Club for many years.

Pete is always one of the first to arrive to help set up the grounds for the kids to play each home game, man's the BBQ for the day as the "Head Chef" and  when the days play is over he is usually one of the last to leave after helping pack and clean up.

Peter's wife Kyla and daughter Melissa Kelleher are also massive contributors. They have taken on the running of the Cootamundra JRLFC canteen.

Pete and Kyla's other children Nicole and Brendan are also there to lend a helping hand wherever possible.

Pete has been a long term supporter and sponsor of the senior Rugby League Club and has now taken on the role as Club President in 2019.

His commitment to the Bulldogs was recognised last year when he was named the Group 9 Volunteer of the Year at the Weissel Medal Presentation Awards – a reward for his dedication to the sport in Cootamundra.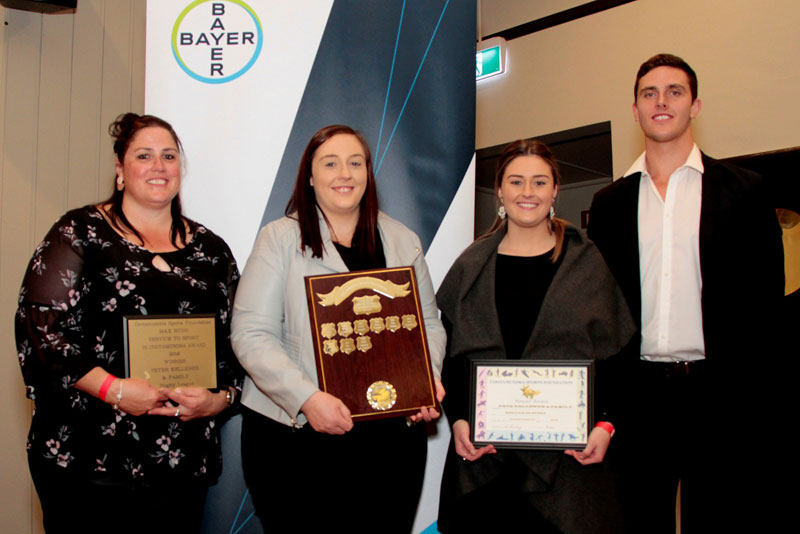 2018 Sports Administrator Award
Garry Mason Golf
Garry's commitment to the sport of golf cannot be questioned.

He was elected Vice Captain of the Cootamundra Country Club Golf section in 2003 and became Club Captain in 2004 and still holds that position today.

That role encompasses administering the entire program of golf at the club.

He is a member of the South West District Golf Association's committee which develops and administers the golf program for the South West Slopes area.

Garry has developed the Cootamundra Country Club Website and Facebook page and manages these on a weekly basis with important publicity and notices for the Club.

Garry is one of the Tournament Directors for the popular Veteran's Week of Golf that attracts over 140 entries each year with 80 of those people visitors to Cootamundra generating significant income to Cootamundra Community.

Garry is captain of Cootamundra Vets Golf and in conjunction with the Secretary successfully run the weekly Veteran's competitions and Tournament and oversees Veteran's golf in the region.

2018-19 saw Garry take another step up by becoming a Member of the New South Wales Veterans Golf Association Executive Council which administers Vets golf throughout NSW. 

This organisation has over 15,000 registered members and runs 52 Weeks of Golf and six Championships.

Within the Cootamundra Country Club itself Garry has played an important role on the Outdoor Committee/Grants Committee for three years.
This involvement has led to the Club gaining a Community Participation Grant of $25,000 and more importantly getting a $1.35million grant from the State Government for the installation of a new computerised automated irrigation system, construction of more cart paths to provide easier access to all golfers throughout the course and construction of new maintenance facilities to provide upgraded facilities for machinery and the workshop and more golf cart storage facilities.

Garry Mason has made a wonderful contribution to the sport of Golf in Cootamundra.