Annual Awards 2017
2017 Frank Smith Memorial Sportsperson of the Year
Alexandria Oliver – Basketball
Alexandria Oliver had a very successful sporting year in her main sport of basketball as well as being very successful in both soccer and athletics.

Her outstanding achievement was representing the New South Wales Primary Schools Girls Basketball team.

She was selected for the Riverina PSSA team at the state carnival held in the ACT in August following her excellent form in the selection trials.

At the completion of this carnival in Canberra, Riverina had finished a creditable fourth out of 14 teams and Alexandria was selected in the NSW primary school girls 12 years and under state team.
This team travelled to Adelaide to contest the Pacific Games in December, playing against teams from all other Australian States and the Pacific region.

At this carnival Alexandria's NSW team finished sixth out of nine teams with three wins, four losses and a draw from eight games.
Locally, Alexandria was a member of the U14s Cootamundra Cougars girls basketball team which were runners up in the NSW State Cup.

Alexandria also had a successful year in athletics qualifying to compete at the NSW PSSA carnival in Sydney in shot putt.
Soccer is another sport at which Alexandria excels in
.
She was a member of the Riverina PSSA soccer team that contested the State PSSA carnival at Miranda in Sydney.
At this carnival she was named best and fairest player for Riverina.

Alexandria received a Riverina School Sports Association Blue for basketball in 2017, in recognition of her great achievement in representing NSW at the Pacific Games.
2017 Junior Sportsperson



Jack Ruskin – Martial Arts


Jack Ruskin is a young man who in 2017 had great success in Martial Arts.

Jack was seven years of age when he began training in Cootamundra under instructor Andrew Finch, he is now 14.

Training for Jack is usually three days a week (5 classes) but in the lead up to his black belt grading, Jack trained four days each week.

Jack credits the help he has received from both Andrew and Ben Filmer (who himself was a former award winner at our annual dinner).

Throughout the year Jack attended training days at Cowra, Dubbo and Orange as well as camps in Sydney and Coolum.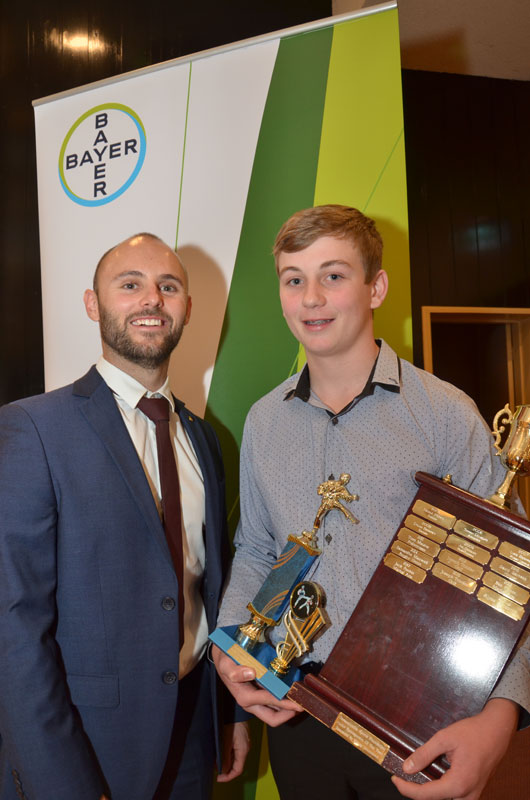 The grading camp was extremely tough and some of the tasks Jack had to achieve were:
*           prepare and give a speech and demonstration of his knife defence moves
*           break boards with both his hand and a side kick
*           complete a six kilometre run in 30 minutes
*           undertake knife hand defence with a real knife
*           complete 40 x 2 minute rounds of sparring.

To achieve a black belt grading at 14 years of age is a great achievement.
Jack's other sports - when time permits, are rugby union, cricket and basketball.
Encouragement Award



Lachlan Sedgwick – Rugby Union & Rugby League


Lachlan Sedgwick is another young Cootamundra sports man, who has great all-round ability.

In rugby union, Lachlan represented and captained the Southern Inland Junior Rugby Union U13's team against both the ACT and Western representative sides.

Lachlan also played for an U14's combined Cootamundra and West Wyalong side, winning the junior rugby Bears coaches award for 2017.

In September, he attended an emerging talent camp with the ACT Brumbies and was rewarded with his efforts being named the U13's player of the camp.

Lachlan also had a busy and successful year playing rugby league.

Among his achievements were winning the U13 best and fairest and playing in the Sacred Heart U16 team which won the final of the state small schools competition.

Lachlan is also a junior rugby league referee. During summer, Lachlan had another great year in the pool.

He was the Cootamundra 13 years champion and at such a young age was the club captain and he represented the Southern Inland at the country regional swimming championships.

Through the school system, Lachlan swam at the CCC state carnival in four events at the Homebush Olympic pool, where he achieved two personal best times.
2017 Team of the Year



Cootamundra Cougars U14 Girls – Basketball


The U14 girls basketball team known as the Cootamundra Cougars had a most successful year in 2017.

They commenced the year playing in the Western Junior League, completing the season undefeated.

In this tournament, the girls had their hardest game against West Wyalong – winning 52-25. They went on to play Bathurst Goldminers in the final and in this match the Cougars had a convincing 60-17 win.

From here the team travelled to Terrigal in June to contest the Division 1 NSW Country Tournament.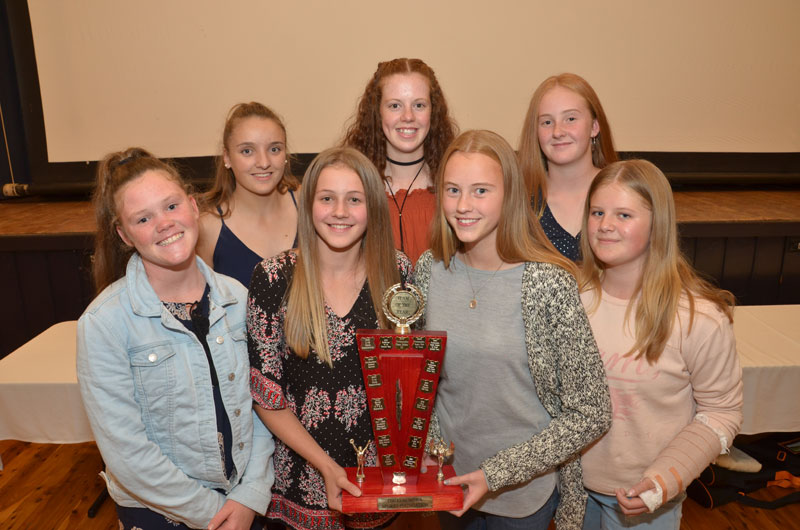 After defeating Coffs Harbour 72-16 the Cougars proceeded to the grand final undefeated. Their grand final opponents were Taree who had also gone through undefeated.

In a very tough game, both mentally and physically and with the team in foul trouble in the first quarter, the girls eventually prevailed to win 62-48.

These two tournament wins qualified the girls to contest the State Cup Finals. This put the girls up against both metropolitan and country teams that they had not played before.

Along the way they defeated Byron Bay 62-34 and a very tough North Bears 64-48.

In the grand final, the Cougars came up against the very strong Albury side.

Poor shooting saw the girls trail all game but they hung in there and were just beaten 53-49.

This result made them runners up in the U14 Girls State Cup.

Team members were:

Samantha Graham, Odessa Tregear, Alex Oliver, Amelia Chambers, Ruby Watterson, Halle Derrick, Abbey Reinhold, Jaime Kerrison, Amelia Hassett.

Coach: Pat Ballard 

Manager: Jason Chambers
2017 Junior Team of the Year



Cootamundra Bulldogs U13 League tag team


The team, coached by Renae Glanville, became the first girls team in the history of the Cootamundra Bulldogs Junior Rugby League Club to win a league tag premiership title when they defeated Young 14-0 in the grand final played in Young.

The girls lost only one regular season game on the way to becoming Minor Premiers setting up a major semi-final clash with arch rivals Young.

Despite a tough 14-8 loss in the first semi-final, the girls rebounded the following week with a 14-0 victory over Boorowa to give themselves a chance at the title and redemption over the girls from Young.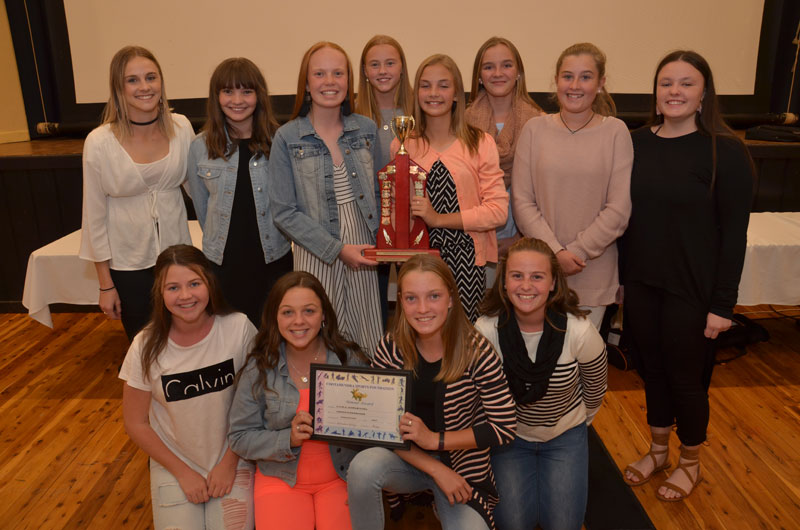 As was the case all season, defence was the key to their grand final performance continually holding out several Young raids close to the line while at the same time scoring three unanswered tries.

The victory was great reward for the girls as they trained hard all season, played with flair but fairness and brought great delight to not only themselves but also their families, their club and the town.

Team members
:
Ashley Duran, Regan Duncan, Bronte Johnson, Odessa Tregear, Alyssa Radnedge, Bailee Meale, Ainslee Meale, Trysta Willoughby, Lily Hartshorn, Ella McTavish, Laura Ward, Tara Wilson, Maddison Gillies, Ellie Miller, Claudia McLeod.
2017 Local Sportsperson



Darren Connell –Cricket


The best local sportsman trophy has gone to a person who has continued to excel at his chosen sport – cricket, over four decades.
Darren Connell richly deserves this award.

Strong support from his parents John and Margaret and his family in his early days set the foundation for a long playing career in cricket.
Indeed the contribution to cricket by his parents deserves mention also – they were wonderful workers for junior and senior cricket in Cootamundra.

Having played the game over four decades, Darren has been a major contributor to the sport on and off the field during this lengthy period.

He loves the game.

He was awarded Life Membership of the Cootamundra Junior Cricket Association in recognition of his contribution to the sport at a junior level as a coach and administrator.

Over four decades playing at club level and representing Cootamundra, Darren has a record that is hard to beat.

The all-rounder has been involved in 18 premiership wins with 13 Merrin Cup trophies in the local competition a highlight.

Still showing his ability and prowess on the cricket field, Darren took out four major awards when his team the Crusaders won the Delta Agribusiness Cup in the 2017-18 cricket season.

Darren won the batting aggregate and average 275 runs at 34.37.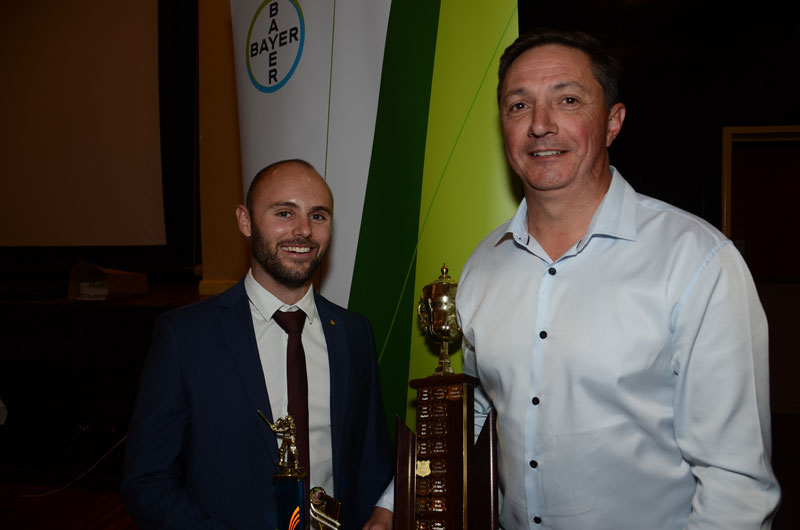 He won the Mel and Gloria Paterson award for the best performance in the Delta Agribusiness Cup, by scoring 81 runs and taking 4/8 in the preliminary final, showing his all-round ability in a big games.

He also won the Ray Ward Memorial highest partnership award with Scott Meale with the pair adding 151 runs for the second wicket against the Coyotes in that preliminary final.

For Connell this was eighth time he has won this award, showing his ability with the bat and positive effect on a team-mate with building a winning partnership.

In this time Darren has always displayed good sportsmanship and been a wonderful role model to younger players.

Cricket is a team game and Darren has always tried to do his best for the team in every match he plays in.

A good captain is essential in any cricket team and Darren has showed his true leadership qualities both on and off the field.
Please congratulate Darren Connell on winning the Best Local Sportsperson award.
Max Rudd Trophy – Service to Sport



Pat Kerin


Cootamundra sport was indeed lucky when Pat Kerin moved to Cootamundra in the early 1980's in his job on the railway.

He has been a major player in sport at both a local and regional level since 1983 and continues to promote sport today.

The main focus for Pat has been cricket and Australian Football and this was highlighted in 2007 when he awarded a Medal of the Order of Australia for services to cricket and Australian Football in the Cootamundra region.

A brief summary of Pat's involvement in cricket is:
35 years continuous service to Cootamundra Cricket as committeeman, secretary and treasurer

26 years of service to the Northern Riverina Cricket Council including 10 years as secretary/treasurer

21 years of service to the Riverina Cricket Zone in numerous capacities

Has coached Cootamundra's junior representative cricket teams for 15 years

Umpired over 520 games of cricket, including matches in Sydney

Coordinates the local umpire appointments for both local competitions and representative cricket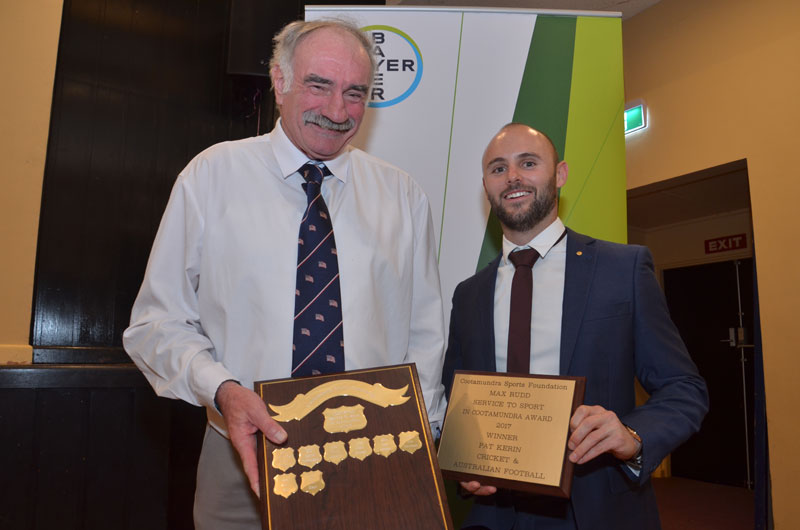 In Australian Football Pat has been a committeeman of the Coota Blues since 1991 and has been the timekeeper at Clarke Oval for 28 years.

His involvement with this Club has been a bonus for the code in the Cootamundra district.

Pat has also been a wonderful servant for promoting Cootamundra sport in general.

He was the voice of local sport on both Radio Station 2LF and ABC Riverina and also served a valuable role in publicity providing a large number of articles used by the Cootamundra Herald.

Pat Kerin – is a worthy winner of the Max Rudd Memorial Trophy for service to sport and it is fitting the award is named after a name also synonymous with cricket in Cootamundra.
2017 Sports Administrator Award
Stephen Cootes

Stephen Cootes has been a wonderful administrator of three of the major sporting clubs in Cootamundra – rugby league, junior rugby league and touch football.

He is another of Cootamundra's many quiet achievers.

He kicked off his administration role in senior rugby league in 1979 when he followed his dad onto the Cootamundra Bulldogs committee.
Steve is still an active member of that committee today meaning he had had an active involvement of almost 40 years – an outstanding contribution to the code.

"Cootsy" has had many roles in that time on the committee and in recent times he has coordinated a major fundraiser for the club - Bulldogs Blotto.

He is known as Mr Reliable in the club and has certainly earned the respect of all those involved in the club.

From this involvement with the seniors, Steve then applied his skills to the junior rugby league club and from all his work in various roles was awarded Life Membership.

The strength and success of the Bulldogs juniors over many years is due in part to "Cootsy's" involvement.

Touch football is a major summer sport for people of all ages and Stephen has had a lengthy involvement with the club.

During his term as President the committee instigated the formation of the highly popular junior touch football competition.

One of his major achievements was to see the touch football club run the annual touch football carnival in January each year.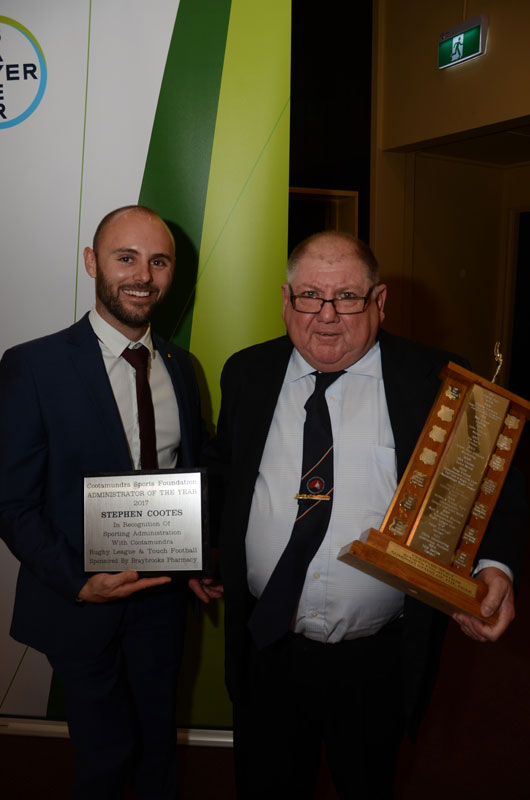 This carnival has run for 35 years and Stephen has been directly involved in 33½ of these carnivals.

The carnival is a great boost for the town each year and usually coincides with the hottest weekend in summer!!

The major sporting event each year brings teams from far and wide each year and they keep coming back – showing the success of the event.

Steve has also been the Touch Footy and senior league representative on the Fisher Park Users Committee which made
recommendations to Council on improvements to the Fisher Park and Nicholson Park complex.

His participation and input on this committee resulted in major advances to the complex including  improvements to the irrigation system, ground condition, facilities like the new toilet block at Nicholson Park, development of the junior rugby league facilities and the continuing upgrade of Fisher Park and Les Boyd Oval.

Stephen Cootes deserves this recognition as Administrator of the Year for his wonderful involvement and commitment to three major sporting groups in Cootamundra.
Individual Finalists
ALEXANDRIA OLIVER                BASKETBALL
JACK RUSKIN                              MARTIAL ARTS
LACHLAN SEDGWICK               RUGBY UNION & RUGBY LEAGUE
MICHAELA WEBB                       ATHLETICS
MAX TIERNAN                              AUSTRALIAN FOOTBALL
MATT BERKREY                         CRICKET
WAYNE PARKER                        RUGBY LEAGUE
JAMES DOYLE                             BASKETBALL
SAMANTHA GRAHAM                BASKETBALL
SAM GASH                                    RUGBY UNION & RUGBY LEAGUE
JEREMY LOTT                             DRAGON BOAT RACING
RENAE GLANVILLE                   LEAGUE TAG
ANISA REES                                SOCCER